Letting the Fun Times ROLL!
Live music is, naturally, a wonderful addition. From the elegance of a string quartet playing during arrivals, to a cover band for your reception, live artists certainly add an elegant touch. For those not going this route, nothing is necessarily perceived as missing; live music is fantastic but not a necessity. A great music program and sound system, however, IS! (SO is your Officiant, Master of Ceremonies and DJ!) The most memorable gatherings are so because of the synergy created by a great DJ who is part host, part connector and part music program provider with a natural talent for drawing everyone into the fold and an attentive ability to cater to broad musical tastes. This is what I craft and provide. Even clients who have hired live music for the early part of the evening have used my DJ services for the fun times later. I've also partnered with various live performers including dueling pianos.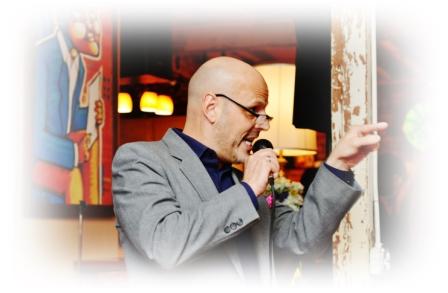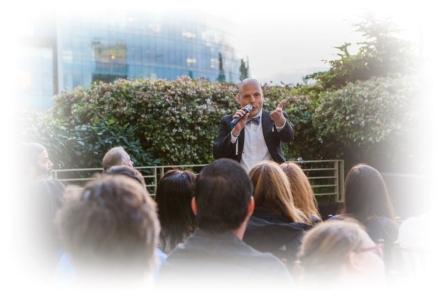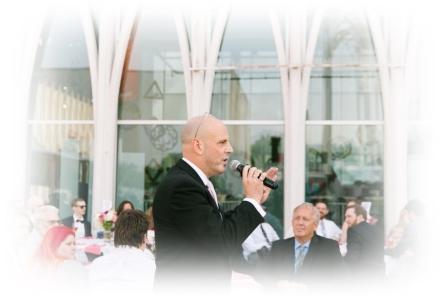 Nothing is more critical for the memorable feel of any event than having the right DJ/Emcee. I have performed this combined role for fundraisers, swim meets, 5 and 10K runs, triathlons, music performances, sweet 16's, animal events and many receptions with sparkling success. It's an art to be point person while not being the center of attention. It's about facilitating collective attention toward a focal point in such a way that invites presence and engagement.
Providing event music programs for twenty years trained us to know how to balance the mix of party making FUN. It is not easy appeasing everyone when ages range from toddler to great grand parents, but have the experience to balance the mix. This is YOUR party and what is going to work best will vary. Immediate song recognition is KEY, having tremendous brain response affecting mood, energy, and sense of pleasure. Studies have demonstrated that songs we're exposed to during our formative years shall forever remain ingrained in our neurology, so hitting the right mix of these triggers from different time frames is critical for the greatest enjoyment of all. I have attended gatherings where the musical theme remained primarily one genre or another, (aka hip hop, house or country) leaving some on the fringe. I recently overheard one grandmother of the bride ask her husband, "aren't they going to play any Elvis?"
We should speak should you need only a DJ/reception emcee. You'll find a dynamic DJ with experience managing live crowds in varied contexts invaluable to crafting a fun time for all. Club DJ's and those engaged with mixing and arranging do not necessarily have the best skill set to light up your gathering. This requires natural people connection and engagement skills; an intuitive party host who connects and interacts with your guests, shifts on a dime and reflects the tastes and mood of those present swiftly and that's what I do. If something's not working, a quick shift puts it on point. Typical DJ packages alone easily run from $2000 to $3000 and UP with additional fees for lights and other add-ons. I have very helpful planning information for you below on my SERVICESpage.
Matthew Love is amazing! I was the wedding photographer at a wedding he DJ'd last weekend. Not only is he entertaining but he knows how to get the crowd moving and dancing. He kept the reception flowing and orchestrated numerous photo opportunities for me. This guy rocks! He is just what you need at your event to help people relax and enjoy themselves. He's also very sincere and endearing. He personally gets involved with the guests and creates memories to last a lifetime. Fabulous job Mr. Love! You're my new favorite DJ by far!
Genevieve Marie Anderson Genofevephotography
PA Sound Systems
A discussion of audio in terms of watts only would be like a discussion of weight management in terms calories only; ridiculously insufficient. One would need to consider fat:carb:protein ratio, exercise and activity, food combinations and timing and a host of other factors for a proper discussion of weight management. Likewise, for audio, one would need to include ohms, frequency range, speaker configurations and drivers, peak vs. continuous power usage, audio transducers and other factors too. Don't let a DJ wow you with a big watts number alone. Not only is that an output of the amplifier and not the speakers, but it will be irrelevant in many urban and outdoor venues with sound compliance standards. Just because you can do something, (ie drive 120 mph) doesn't mean you should or will. There are also many digital alterations to audio such as the USB SoundWave 7.1 HD surround enhancer.
It's also best to avoid discussions in terms of crowd size. A luxury car might accommodate four people just as many other cars will. It's a different experience. In many circumstances, both systems below may be used for ideal overall execution.
The core of any sound system is comprised of three fundamentals: the speakers, mixer and amplifier(s).
Matthew was amazing to work with as the DJ/emcee for a wedding that I was the coordinator for. He's full of positive energy and so accommodating, you can't help but smile whenever you're with him. He stuck to the schedule, the notes that I prepared for him during the reception, and went above and beyond to be personable with the guests and be on top of the timeline. He's very detailed oriented and it was very reassuring to have him on the team. Thank you, Matthew! I hope to cross paths soon!
Athena Galdonez Wedding Events by Athena
Two Electro-Voice ZLX-12P loudspeakers controlled by the Mackie ProFX8v2 8-Channel Professional FX Mixer with USB.
These produce a maximum of 1100 watts EACH with variance controlled sub woofers and can turn an airplane hanger into a night club...IF that's what you'd like. We typically run these at around 25% capacity.
Each component requires it's own 120v outlet; we have all sorts of adaptors, protectors and power strips. It is nonetheless best to source the power to these independantly.
Supplemental and /or Dedicated Ceremony Sound System
Fender Passport Deluxe PD-250 Portable PA controlled by its own 4 channel 2 line mixer tower with after market true 12AWG patch cords which is critical as both audio and power is transferred to the speaker arrays via these.
This requires one 120v outlet and is logistically ideal for smaller outdoor venues and yet richly and amply fills both indoor and outdoor gathering spaces of various sizes.
We will typically dedicate this system for use at a remote location, a ceremony space for example, often far away from cocktail, reception, and party spaces.
This system has been used in many contexts including outdoor athletic events, indoor swim meets, fundraisers and more. Often, we've worked venues that advise or suggest to their clients to utilize their built in system; thank GOODNESS this was used instead with absolutely NO comparison in the tone and quality. A ceremony does not need much volume, but they benefit tremendously from exceptional deep tonal audio that is easily and deeply heard and felt by all.
All DJ gigs include the managed use of our dance floor lighting system (whose effects are shown below right), mounted on a Chauvet professional lighting stand. We also offer seven full RGB color mixing 36 LED flat par can lighting arrays which may be applied in any addional manner desired, most often decorative and embellishing up lighting for your dining area, dessert or welcome tables. We also utilize a dedicated sound activated 7-colored party light to illuminate from the interior side of our DJ facade, and can offer an additional laser lights LED projector and Epson digital projector as well. (see below)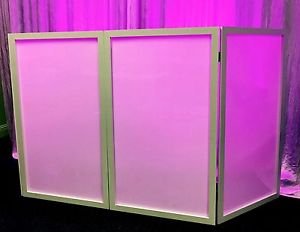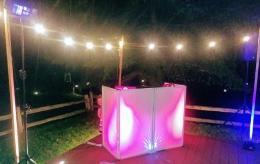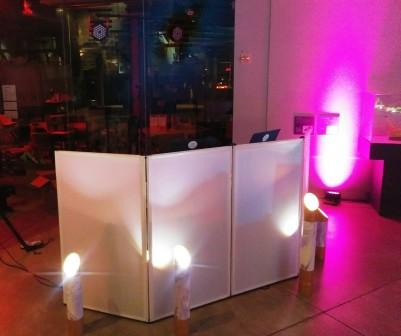 We utilize an DJ/event facade which may be illuminated, set up and placed in various ways. We most often opt for a four foot table with the sides folded all the way in for an intimite, efficient footprint.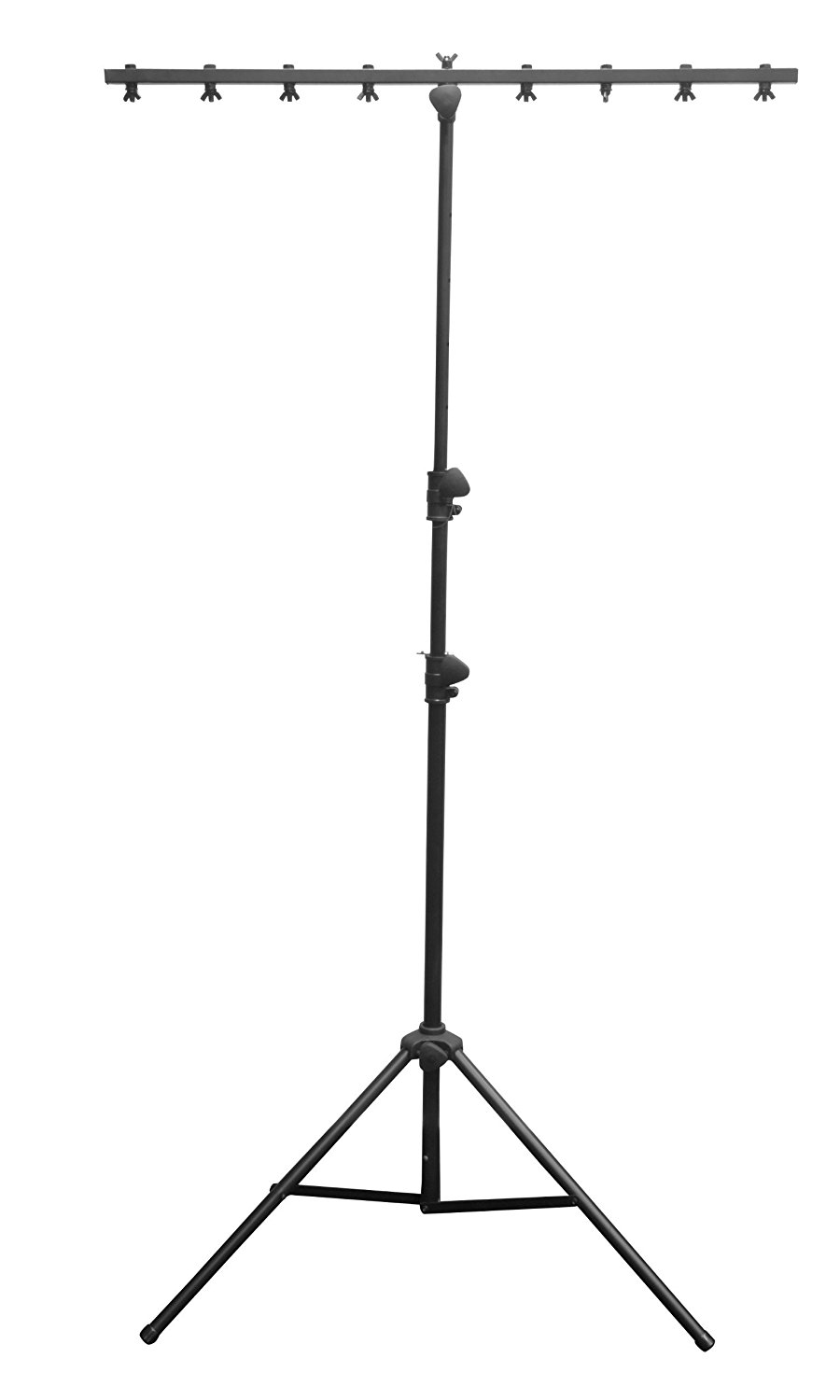 This photo above demonstrates the functions of our four in one multifunctional effect light which combines a RED and GREEN effects laser show with a strobe, rotating pattern lights and a sword butterfly light. Keep in mind, the darker the space, the greater the impact of the light show.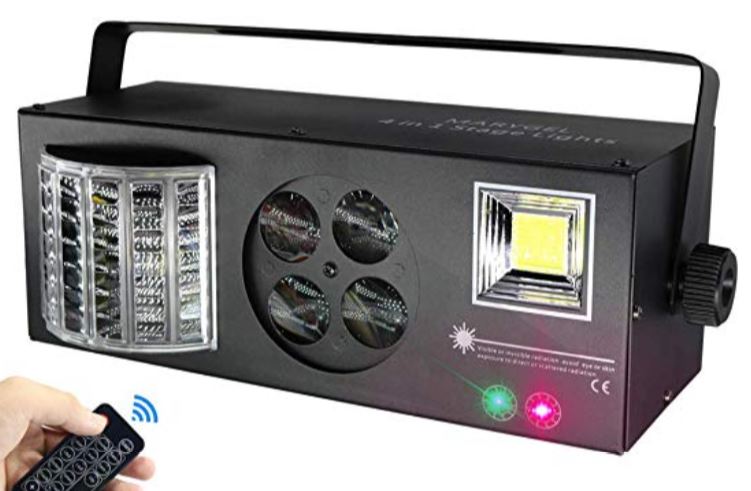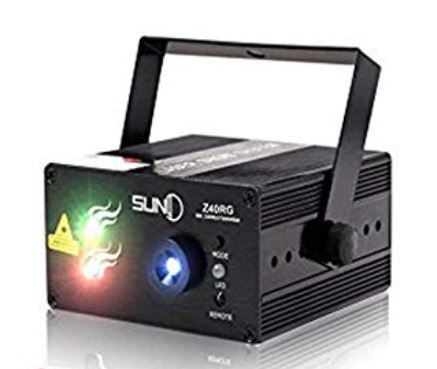 Every photo on this page and thoughout this site feature actual live time jobs that we have personally worked and helped create. There is NOT a single stock marketing photograph anywhere on this site with the exception of the product and lighting demonstrations.
HD Digital Projector and Large Screen
As a wonderful embellishment to your reception or party, we can provide an Epson VS220 high definition, high lumens digital projector and large screen (87" x 49", 100" diagonally, 16:9 ratio) for display of client life slides, sharing your story or any other application. For dance parties, a digital visualizer app, the Project M Music Visualizer Pro, may be projected onto a screen or wall, inside or out weather permitting, across your dance floor or otherwise as a unique light and visual spectacle in addition to dance lights.
Online contact and registration forms from
Wufoo
.