Discover these wedding locations by clicking on the photo.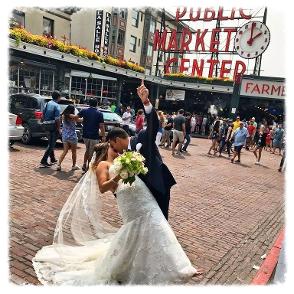 Love is a compelling message of Life and essence of who we are. The beauty of two points of light recognizing this in the other is among the richest of our lives. This journey of discovery is challenging and worth every moment. There is much to be learned through your marriage and at it's beginning, it's wonderful to awaken your loved ones to your shared depth of connection. It's likely more about shedding away what is untrue revealing more of your authentic being through the perils and joys of your relationship. The light of your love is here to touch people far beyond what you may ever know. Weddings hold incredible potential to be moving, meaningful and inspiring. Allow yours to reflect more of the most genuine you.
Your wedding is all about YOU. Your friends, family and loved ones and your deepest hearts desire. Make it as polished and professional or as fun, humorous and spontaneous as you wish with Matthew Love, (yes, LOVE IS his REAL given name), a gifted speaker, emcee, Officiant and event professional. The potential and possibility from a deep and genuine Soul or Essence connection between two people is among the best juicy stuff of life and what Matthew is most passionate about and why weddings are such a joy for him. Through life's promises and passages, Matthew has held vigil for families with loved ones in hospital and hospice care, officiated memorials and all types of gatherings including celebrations of new babies, homes, businesses and careers. He's also inspired crowds of thousands as a keynote speaker with wit, warmth and heart. As you'll see throughout this site, the diversity of event work Matthew does all the more qualifies him to be your very best Officiant. Weddings are each unique. Let yours reflect more of you.
DREAM BIG and know that together, we can craft the ceremony of your dreams. It's your day, your life, your experience and your expression. Matthew would be humbly honored to be in service to, with and for you.
Learn more about our venue partners by clicking on their logo.
I've collaborated with a vast array of gorgeous venues be they rustic-chic barns, magical garden fairy tale spots, exquisite grand ballrooms or breathtaking outdoor locations. The tiniest sampling include Rock Creek Gardens, The Seattle Aquarium on Pier 59, Seattle's iconic Smith Tower, the Axis in Pioneer Square; classic urban restaurants such as Salty's on Alki and Canlis; east-side favorites such as The Club at Newcastle, the Club at Snoqualmie Ridge and Swiftwater Cellars in Suncadia; the dreamy Shafer Baillie Mansion near Volunteer Park and the most timeless and succulent venues in the northwest including the opulent Arctic Room and Pan Pacific, the luxurious Monte Cristo in Everett and the incomparable Fairmont Olympic.
I have hiked trails and performed outdoor weddings with only the couple, witnesses and photographer and have met with couples on short notice in parks and other locations to perform their ceremony. I am scuba certified and very open to participating in your unique wedding adventure such as taking vows underwater with radio equipment or while skydiving. Really.
A familiar and positive working relationship among your vendors translates to an exquisite seamless wedding handled expertly by a synergistic team of pros with far fewer worries for you. It's helpful to have experience and knowledge with your venue including their audio/visual abilities, key contacts and operations, facilities, spacing, layout and more leading to very well informed consultations for us. I've enjoyed each and every venue with whom I've worked in various ways.
My venue selection recommendation is simple. Follow and trust your instincts while keeping your final choices to a minimum. The number of decisions you're facing is overwhelming enough. Narrow it down to three choices remotely and just know that your best selection will reveal itself to you with a visit to each on a single day. Trust yourself.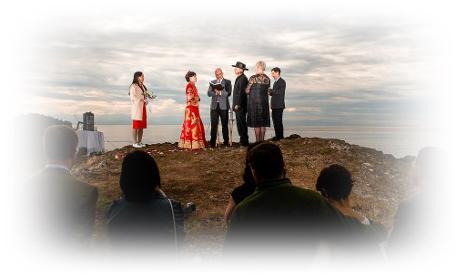 My wife and I are really, really, really happy with our wedding day. We thought everything went perfectly and could not have asked for anything to have been different. A big part of that was Matthew; his spirit, his eloquence, and his boundless, positive energy. I appreciated how he moved everyone with his speeches, gracefully smoothed every wrinkle and got and kept the party going. I heard from many of our guests without asking that they really liked his performance . Matthew will be the perfect officiant, DJ and emcee for your wedding. - Henri Hein
The Role of Officiant
For most full and part time pastors, clergy, ministers, rabbis and others, weddings may often be seen, perhaps subtly, as an opportunity to teach or sermonize, even if just a little. I've watched charismatic ministers upstage their couple stepping in front of them to deliver a message. I respectfully disagree with this approach. Your wedding should always be focused upon you. This isn't to say you must be comfortable being the center of attention because you don't. It also doesn't mean there shouldn't be some beautifully delivered content that best represents you and your ebodiment of love and marriage. It means that the role of a great Officiant is to facilitate, not dominate.
Most Officiants wait for their turn or part in the ceremony which does not include facilitating your entire rehearsal or helping you plan aspects of your ceremony such as entrances (bridal party processional and entrance of the bride) or exits (recessional). These are all part of the ceremony. For those who have hired a private wedding planner, (and I appreciate collaborating with great planners), the ceremony should be the Officiants responsibility. That is what is being officiated. I'll work with you to craft your perfect style which may include some traditions or not. I know what works best and why from experience and shall guide to your vision. If you utilize me as your DJ and master of ceremonies, (please see my DJ page), you'll experience a seamless transition from ceremony to party with lots of fun guest interaction. Focused, meaningful and brief ceremonies work wonderfully every time and that is what I craft and deliver. I can hardly wait to get started for you!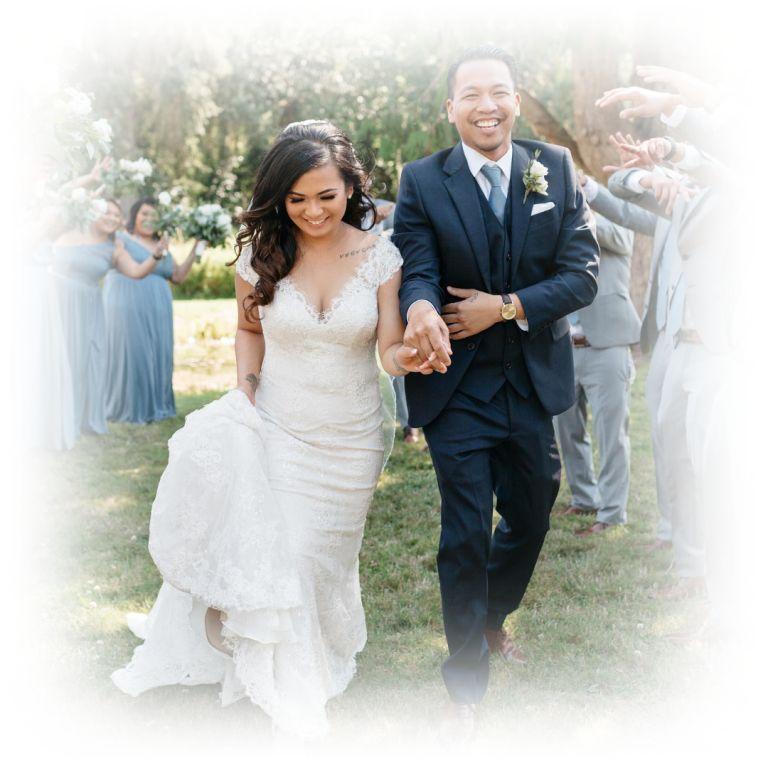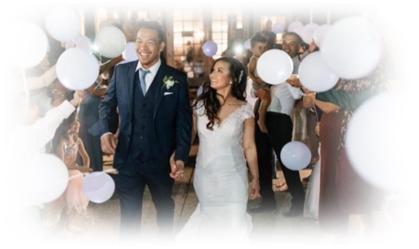 So HAPPY with our decision to hire Matthew! We hired Matthew to be our officiant at our wedding at Columbia Winery and are absolutely thrilled with our decision to go with him because he incorporated everything we wanted into our ceremony including Filipino traditions. He's so easy to work with and will do all he can to make your ceremony perfect and personalized. Our wedding party and guests loved him as well because he really gets the guests involved and engaged. You won't regret hiring him! - Rae and Mitch Zabala
Promises and Vows
Promises might be distinguished from vows in that they are whimsical, lighter aspects that come before your vows and allow for color, humor and fun, setting the stage and tone. They may also be different between you two which I highly recommend. The style could involve short statements with call and response, a little bit of memorization, speaking from your heart or merely tiny one word agreements. There will be as little as possible placed upon you so you can be as fully present as possible and enjoy the process.
I have assisted every single couple with their vows including those couples who either planned or did in fact write personal statements. Couples may easily end up so entrenched in the production of their wedding that when it comes down to it, (ALWAYS much sooner than we imagine), they find the vows still aren't written. Your personal statements may be easily woven into your ceremony. In many cases, my couples find the content we craft perfectly represents them. I have an ample and gorgeous repertoire of material that works wonderfully as a tool for crafting your perfectly tailored promises and vows you and your guests will feel deeply and love.
...and finally,
I look forward to meeting you both, at least twice prior to your big day and getting to know you as much as possible, gain a feel for what you're about and discover your vision.I look forward to learning about your beliefs about the nature of your union and get as great a sense of you and your nature so we can arrive at the perfect tone and feel that's right for you. Sometimes there may be tension between our own ideas and the expectations of guests, especially parents. The more mature the couple, the easier it is for them to create what they truly want free of outside influences. While we choose a public ceremony to share our wedding with loved ones, I'll help you discover why you're doing this and what this is all about for you. This will profoundly deepen the meaning and memory of the experience for you and everyone present. Let's get started making your magic!
I'd like to gift my clients who would welcome it (please let me know), a 60 minute flashdrive of brief inspirational messages of a spiritual nature rendered and recorded unscripted, before a live audience. These meditations are for you to enjoy and may also serve as a great tool for honing in on styles of messaging that resonate for you.
All of these shots click through too!
Online contact and registration forms from
Wufoo
.